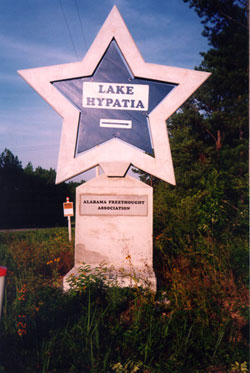 Location:  
255 Lake Joan Circle, Munford AL  36268  
Directions
Dates:    June 29 (Friday) - July 1 (Sunday)
Lake Hypatia's motto is "No preaching, no praying, no walking on water."
The agenda for 2012 includes well-known speakers from the freethought community. In addition to the program, you will be able to relax and enjoy lake activities such as boat rides with "Cap'n Jon," swimming, and fishing. You may also play softball and/or volleyball, or join Karon Park for her arts and crafts workshop in Freethought Hall. Special activities for children will be hosted by Camp Quest innovator Aleta Ledendecker during the film festival and during other selected parts of the program.
Lake Hypatia is hosted by the Alabama Freethought Society, an FFRF chapter and its director Patricia Cleveland, and co-sponsored by the Freedom From Religion Foundation.
The master of ceremonies for this year's Freethought Advance will be Ed Buckner, a familiar face to many attendees. Ed is a former president of both American Atheists and the Atlanta Freethought Society. He is a life member of American Atheists, Council for Secular Humanism, FFRF and AFS. He has spoken and debated widely on diverse topics. Ed is co-editor, with Michael Buckner, of Quotations That Support Separation of Church and State..The Alabama Freethought Association, FFRF's longest-running current chapter, is planning on holding its annual "Freethought Advance" event at Lake Hypatia, Ala., on the weekend of June 29 - July 1.
Lake Hypatia is home to the Atheists in Foxholes monument.  Every year many freethinkers get together at beautiful Lake Hypatia, Alabama for a fun filled Fourth of July Weekend!
Speakers for this year's events:
Lecia Brooks
is Director of Outreach for the Southern Poverty Law Center. She leads the Center's outreach efforts on key initiatives and social justice issues nationwide, giving presentations promoting tolerance and diversity. Ms Brooks, a graduate of Loyola Marymount University, has been with the SPLC since 2004. She serves also as director of the Civil Rights Memorial Center in Montgomery, Alabama, an interpretive center designed to provide visitors to the Civil Rights Memorial with a deeper understanding of the civil rights movement. Brooks will speak on how the SPLC pursues its primary goals of fighting hate, teaching tolerance, and seeking justice. 
JT Eberhard
is a campus organizer and high school specialist with the Secular Student Alliance. He is author of the blog What Would JT Do? and has been a contributing author to AtheismResource.com.

Before joining the SSA, JT was most known as a debater on atheism and LGBT rights and as the co-founder of the Skepticon annual conference. JT's talk at the 2012 Freethought Advance will be titled "Reason as a Moral Obligation."
Dr. Darrel W. Ray
is the founder of Recovering From Religion, as well as the author of The God Virus: How Religion Infects Our Lives and Culture and Sex and God: How Religion Distorts Sexuality. He has been a psychologist for over 30 years. He has been a student of religion most of his life and holds a MA degree in religion as well as a BA in Sociology/Anthropology and a Doctorate in psychology. The title of Dr. Ray's talk at Lake Hypatia will be "Sexy Evolution (or, What the Pope Doesn't Know About Human Sexuality)." Each species has a unique reproductive strategy. Unfortunately, the Pope's view of sexuality almost opposite of what we are really like. Dr. Ray explains the difference between human sexuality and religious sexuality.
Dale McGowan
edited and co-authored Parenting Beyond Belief, which Newsweek called "a compelling read," and Raising Freethinkers, the practical sequel. He also edited Voices of Unbelief, an historical anthology of atheist and agnostic documents due for release in September of this year. He writes the secular parenting blog The Meming of Life, teaches nonreligious parenting workshops across the United States, and is founding executive director of Foundation Beyond Belief, a humanist charitable organization whose members have raised over a quarter million dollars for charity. In 2008, Dale was named Harvard Humanist of the Year by the Humanist Chaplaincy at Harvard University. He lives near Atlanta with his wife Becca and their three children. McGowan's presentation will be titled "Secular Parenting."
Al Stefanelli
is the Georgia state director of American Atheists, Inc. He is a writer, public speaker, atheist activist, and a former ordained minister and pastor. He is author of A Voice of Reason in an Unreasonable World - The Rise of Atheism on Planet Earth and Free Thoughts - A Collection of Essays by an American Atheist. Al co-hosts the weekly Internet radio shows "American Heathen Radio" and "Reap Sow Radio." His personal blog, "A Voice of Reason" is part of the Freethought Blog Network. You can find him at www.alstefanelli.com. Al will speak on religious freedom and the development of the theocratic state.
Bob Truett
is a regular fixture at the Freethought Advance being requested time and again by attendees. Bob always provides a naturalist's twist to any talk. This year Bob's talk will be "King Kong Plays God" a whimsical freethought criticism of a king-like god who demands blood sacrifice. In addition to enjoying Bob's own brand of humor, in the process there's a good possibility you will learn a thing or two about mankind's closest relatives, the great apes.
The International Freethought Film Festival celebrated its first season in 2011. This niche film festival is sponsored by the Freethought Film Festival Foundation (FFFF) and celebrates films that challenge the status quo, in fact, the unchallengeable. This includes the examination of truth claims by governments, religions, pseudo-scientists, psychics, astrologers, and the like. Selected entries also include films that expose human rights violations and tales of those who, against the odds, affect positive change by questioning authority. This year, FFFF board member Judi Green brings to Lake Hypatia selections from the 2011 International Freethought Film Festival to be shown in two ninety-minute installations. The mission statement of the FFFF is "Promoting reason, critical thinking and freedom of inquiry through the medium of film."
The Feature films are "The God Complex" and the "The Evangelist."  There will be a block of shorts shown before each of the features.  For more information about these films click 
here.
Accommodations
There are several hotels in the Talladega area that are within diving distance of the event.
Holiday Inn Express
Hampton Inn & Suites
240 Haynes St.
210 Colonial Dr
Talladega AL 35160
Oxford AL 36203
1-888-HOLIDAY
256-831-8958
256-362-7780 
Super 8 Motel 
Budget Inn Motel
220 Haynes Street
65600 Hwy 77
Talladega, AL
  T
alladega, AL
800-800-8000
256-362-0900
256-315-9511
Camping
There is a campground joining the Freethought Hall.  Primitive and RV camping are accommodated.  Bathrooms and showers are available.  While camping is free of charge, be sure to indicate if you will be camping on your registration form.
Registration:
Registration is $35 per FFRF member, $40 per nonmember, $5 per FFRF student member and $10 per nonmember student.
Four catered meals will be offered (Friday night, Saturday lunch, Saturday dinner, Sunday brunch) and are $10 per adult, $5 per student. (There will be an inexpensive hot dog/veggie dog lunch offered by a private couple on Friday.)
There are no nearby restaurants so order meals now. Meal orders and early registrations must be in hand by June 24. There is a $10 late fee per person for registration after June 24. No meals may be ordered after that cutoff.
The registration page can be found can be found on the FFRF's Web site:
Any questions, comments or requests, please send them to Jon@thewafa.org.
We ask that in respect for other attendees you do not bring your pets to Lake Hypatia.